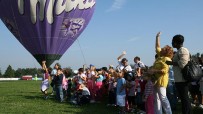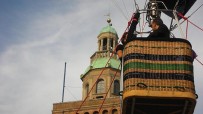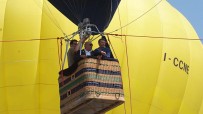 Tethered Hot Air Balloon Ride
Tethered Hot Air Balloon Ride
Learn more...
Tethered Hot Air Balloon Ride
Hot air balloon has always had the ability to wonder and to astonish the young and old collective imagination and fantasy, for its extraordinary communicative and scenographic power. On some events and rallies in Italy or abroad we organise demonstrations of tethered hot air balloon rides. Ballooning in this way guarantee an exceptional show with an extreme spectacular effect. Indeed, this "Air Giant" lights up as a huge colourful bulb, amplifying the awesomeness for those who will experience the emotion of flying.
Tethered hot air balloon rides, can as always support and valorise every kind of events, giving to the public, the incredible emotion of an "other times" flight. Certainly, the tethered flight allows to make feel to a lot of people the suggestion of a travel in past times. It's even particularly suited to the entertainment of collective events as celebrations, exhibitions, village festivals and events of every kind.
Hot air ballooning means to offer a show enable to go green (with a great emotive and scenographic effect) as to give basics of physics, history, environmental awareness and meteorology, moving a public of young and old.
Why the Tethered Hot Air Balloon Ride?
Strong Points:
A Flight for All Ages: the ascensions are regulated (from 10 m to 30 m) because the hot air balloon is anchored to the ground with specific ropes tied to ballasts;
Going Green: Hot air balloon is the only aircraft in the whole world entirely with an eco-engine;
Scenographic Effect: the great dimensions of the hot air balloon (21 metres of height and 20 metres of width) fill the sky with colours, and in this way, it permits to move the public now when it takes-off. Once at high-altitude, the public will be able to admire all the surroundings from above of this "huge painted bulb" in an unusual three-dimensional perspective. So, ballooning means to offer a unique show, able to go green and have an emotive and scenographic effect on a public of young and old.
Technique Necessities in Order to Host a Tethered Hot Air Balloon Rides:
For those who want to host a tethered hot air balloon ride during an event is essential to make a location available, (conditio sine qua non), with these characteristics: a grass field or a square of 60 m. in diameter (look at the nearby scheme) free from ground and sky obstacles. As an example, the perfect place, in order to organise a tethered hot air balloon flight, would be a regular football field. It's also really important that in the proximities there won't be present high voltage electric wires.
In the summer period (April-September), you should bear in mind that the hot air balloon can't fly, be inflated and used during the warmer hours of the day. Therefore, the organizers must plan the exhibition just before the sunset, or in the cooler hours of the morning.
How Many Persons Can a Tethered Hot Air Balloon Carry?
A Hot air balloon during the tethered flight can carry (in favourable meteorological conditions) about 50/60 persons for hour. To make this possible, the organizer should regularly provide to regulate the public queue which desire to try this experience.